bentART 2019 celebrated our 15th year with a  birthday party theme. The stage was well and truly set for a fabulous weekend!
Diversity – diversity of artwork reflecting the diversity of the artists who enter – this is the word used by both judges and the curator during their speeches:
"Just like the people who are here tonight, the range of artwork submitted is incredibly diverse: big, bright, bold, bodies, black and white, gentle and barely there"
– Amelia Tracey, Curator
The range of artworks included the well-known oils, acrylic, watercolour, pencil and ink, dry-point etching submitted on canvas, paper, and other mediums; photographic images printed on conservation rag, archival paper, parchment, on rag, acrylic sheet and on museum glass. We had mixed media, metal, printing ink on linen, lino print and gold leaf on rice paper, glass enamel on copper, many spoons on a wooden burl, hand cut and painted french paper. There was a wide range of sculptures made of amazing materials – steel/wire, glass panel, collected hardwood sticks, copper wire, ceramic.
The WINNERS…
The winners received their prizes from the judges or our major sponsors. See the winners for each of the Awards displayed below:
Overall Exhibition Award – Sue Lightfoot with By Choice 
Runner Up Award won by Alice Wheeler with Finishing Each Others Sentences
New Entrant Awardwon by Bryn Hutchinson with Two Sisters and a Lad
Curator's Award won by Ellie-May Court with A beautiful outcome
Highly Commended Award won by Kathleen MacDonald with Have you tried it that way?
Highly CommendedAward – Jochen Letsch – Sister One
Highly Commended Award – Julianne McWhirter – View from Cox's River Road
Highly CommendedAward – Michael O'Keeffe with Oh Mary
Highly Commended Award – Julie Patterson – The Mt Vic Flicks
Highly CommendedAward – Lorraine Trigg – Diversity
Highly Commended Award – April White – Great White Heron
Highly CommendedAward – James Gordon – Bush Flora 3
Highly Commended Award – Bernardo Diaz – Cerebral Candy
Our new Postcard Category with the 2019 theme of Reassessing Normal was awarded to Julianne McWhirter for The evolution of normal
Pet and Wildlife Smartphone-ography Award – Lachlan Hibbert Wells – Lucy, Queen of the Jungle
People's ChoiceAward – Sue Lightfoot with Solitude and Trish Doyle
bentART is very privileged to have so many people who take time off work and donate their time freely to support bentART.
These include the judges Lizzy Marshall and Dr Sanne Mestrom,  the curator of this years exhibition, Amelia Tracey shown here with bentART President Juls McWhirter.
The Artists' Talk…
Three artists enthralled the listeners with their responses to Jonathan Llewellyn's questions, showing again the diversity of the artists who exhibit at bentART.
Ruth started her drawing from a young age and studied art early becoming an art teacher, while Gillian and Helen both came to a realisation that art was something they wanted to do later in life and started their art degrees then. These talks are always well appreciated and Jono does a great job as moderator, bringing out interesting sides of the artists and their works.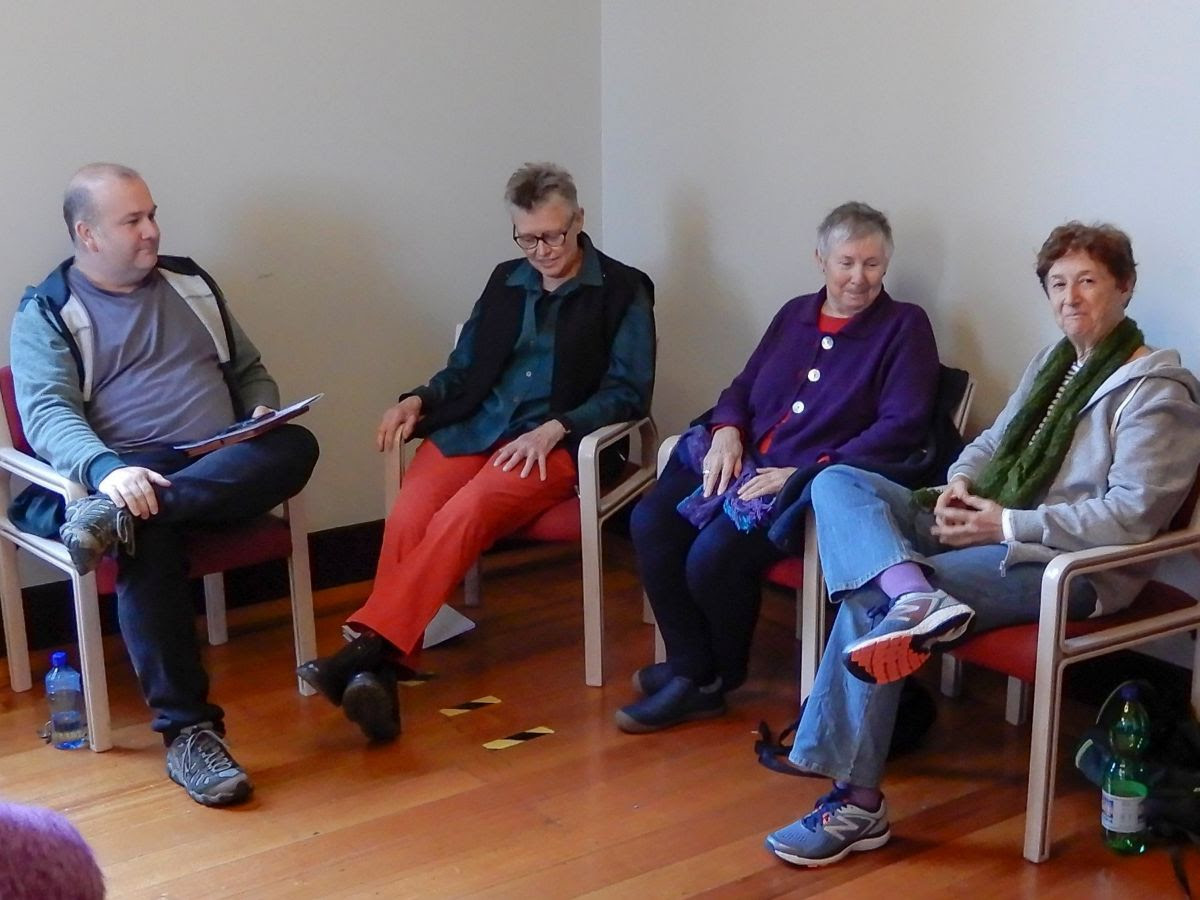 Ruth Le Cheminant, Gillian Hand and Helen Young with Jonathan Llewellyn
Artist talk attendees